Back to Newsroom
How You Can Support America's Heroes This Month
Hey, I'm a big supporter of veterans and milfams, and the orgs that help 'em out. One way that the Craig Newmark Philanthropic Fund supports them each year is through the Veterans Charity Challenge. This is the 4th year hosting the Challenge as a way to help raise as much money and awareness as possible for organizations benefiting America's heroes and their families.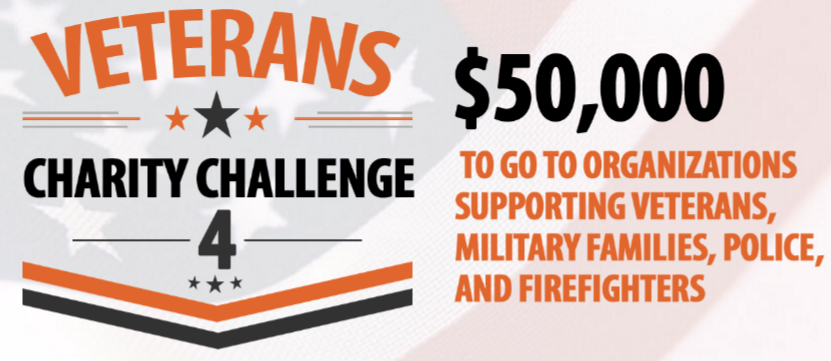 The Veterans Charity Challenge is a crowdfunding competition where orgs benefitting veterans, military families, police, and firefighters compete to raise money for their cause. The Craig Newmark Philanthropic Fund is donating $50K to help out. I would love to see your organizations join the Veterans Charity Challenge.
There are lots of opportunities to win money for your org:
The top raising charity will receive a $20,000 donation,
Second place will get $10,000,
Third will get $5,000,
Fourth will get $2,500,
And fifth will receive $1,000.
Plus, there's a total of $11,500 in weekly Bonus Challenges being given away, as well. Check out the Bonus Challenges Here for all the info.
The Challenge starts May 25th and is a great opportunity for orgs of all sizes to raise money and get exposure for their cause. My team's added a few more details about the Challenge that are pretty important below, and if you have any questions at all, please contact the Challenge platform, CrowdRise using: Veterans@CrowdRise.com.
A few more Challenge details...
The Veterans Charity Challenge launches on Wednesday, May 25th at 12pm ET and runs through Wednesday, ​July 6th at 1:59:59pm ET.
Even if your organization does not win a grand prize, you still get to keep all the money you raised.
The Challenge is open to any 501(c)3 benefitting America's heroes, such as veterans, military families, police, and firefighters.
CrowdRise helps you every step of the way including webinars, email content, social media posts, 24/7 support, tips, and more. The goal's to make this Challenge super successful for your cause without adding any bandwidth to your team.
To apply, please Go Here​​.
The thing is, I figure that service members, vets, and milfams all risk a lot for us, so the least we can do is help 'em out when we're able...
Related Posts