Back to Newsroom
A 6-Year Journey – Overcoming Barriers to Tech and Community Radio in Western Kenya
Six years ago, Richard Magerenge, Director of the Ekialo Kiona ICT Center on Mfangano Island, Kenya, began the journey to provide an open source platform for community engagement, discussion and freedom of expression using information community technology (ICT) and community radio. Living on a remote island in the middle of Lake Victoria, Richard was determined to bring his community's dream to life, and legally operate Kenya's first wind and solar powered community radio station.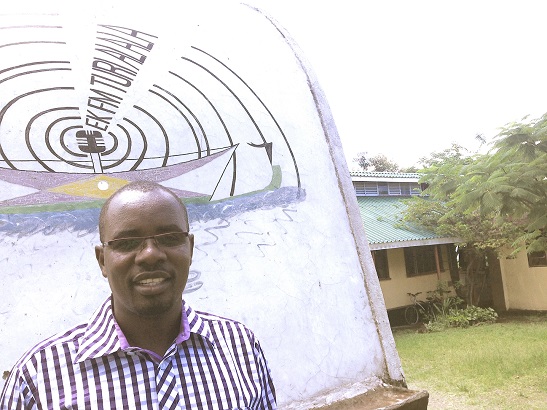 Richard Magerenge in front of the EK-FM Community Radio Station on Mfangano Island[/caption]
Prior to 2009, the only access to information for Mfangano Island residents came from outdated resource books and radio receivers broadcast from hundreds of miles away in the urban centers of Nairobi. News was old, and information was irrelevant to the subsistent, remote lifestyles of the island. Radio was commercial, and it was not produced by the people, for the people. For years, Richard only heard the national station and patriotic songs. In 2006, there was only one station that broadcast a 1-hour slot in Richard's indigenous language – Abasuba.
But dreams do not come easy. With over 90% of radio stations in Kenya owned by or connected to politicians, obtaining a radio license by an independent, community-owned station seemed impossible. Located in the middle of Lake Victoria, Richard faced numerous challenges. Government offices were based in the capital of Nairobi, a 12-hour journey by bus away from Mfangano. Richard also described something called the "suba issue." "There are a lot of people that feel like Suba is not there, and that we shouldn't exist. The truth of the matter is that we are Abasuba. People think we are remote and primitive but we too deserve the opportunity to be someone, and get educated." In addition, the application process in the country had been stalled since the 2007 post-election violence that flacked Kenya, tightening controls on frequency distribution.
EK-FM broadcasts for 12 hours a day to over 200,000 listeners across the shores of Lake Victoria[/caption]
For six years Richard made trips to Nairobi. He traveled on a night bus, arriving to Government offices early in the morning, and departing once again in the evening. He estimates over 20 trips were made. With little movement from the government, Richard began to network. "I met with prominent politicians and big businessmen, found ways to sit down with them for tea, and shared the barriers we faced." In April 2016, the Ekialo Kiona Suba Radio ("EK-FM") was officially licensed by the Communications Authority of Kenya! To this day, Richard has yet to receive the official letter, which was supposedly sent to his PO Box on Mfangano Island.
What excites Richard the most about EK-FM? "With our own station, we now have the power to pass what kind of information we want amongst ourselves. It is not owned by someone in Nairobi. This is something we own as a Suba community. We participate in it, we run it, and we are in it." There is a saying here in Kenya: the radio has helped people go from "grass to grace." The voices of the Abasuba have been uplifted and are now heard.
Stay tuned for Part II of this 6-year journey to discover how the community-run radio is a catalyst for inspiration among the community (including the scoop on poultry projects!)…
*The Organic Health Response – Ekialo Kiona Center provides the only WiFi internet access point for the island, a computer lab and community radio station. In addition they implement a variety of community health programming on Mfangano Island, Kenya.
(Guest blog post by Kelsi Hines of Organic Health Response)
Related Posts