Back to Newsroom
Why I'm Supporting Military Families, Their Kids, And Teachers
Okay, sure, as a people we're forgetting how much support and respect that veterans have earned.
We've never really realized how much their families have sacrificed; how they serve at home in often difficult circumstances.
We also tend to forget how much respect and support teachers deserve and how little we support them.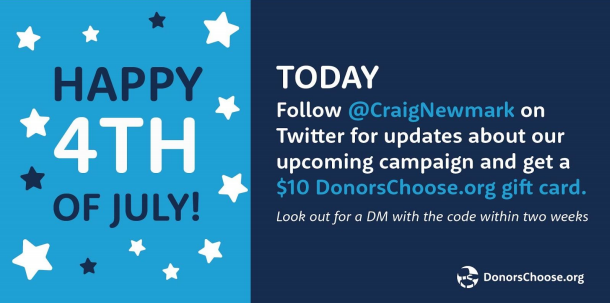 So, I figure a serious way to show my support is a new effort that DonorsChoose and I announce today: a year-long way where you can help support military kids, families, vets, and active service members.
Here are the details from DonorsChoose, but in short, you can make contributions, small or large, to the classrooms where there are a lot of military kids. This effort really helps prepare them for a successful future, and shows respect for teachers in a real way.
Also, if you follow me on Twitter today at @CraigNewmark​ for updates about the upcoming campaign you'll get a $10 DonorsChoose.org gift card. Look out for a DM with the code within two weeks.
I am excited to be announcing this partnership with DonorsChoose. So many students and teachers around the country lack the resources they need to succeed. Kids in military communities face even more challenges – like having a parent deployed overseas. I hope that you can join me in showing your support for these communities that sacrifice so much for our country.
Disclosure: I'm doing my part of this by stealing an idea from DonorsChoose board member Stephen Colbert.

If you want to see how his stuff with DonorsChoose started, he interviewed me way back when I was interesting.
Thanks!
Related Posts