Back to Newsroom
How Two Neighbors Shared Much More Than Wifi And Helped An International Community
Craig Newmark and Organic Health Response come full circle 8 years later
After a chance meeting at a San Francisco coffee shop eight years ago, the founder of craigslist took a chance on a dreamer with a big idea.
That dream was Organic Health Response, a nonprofit that now helps thousands of underserved people in Mfangano, a Kenyan island in Lake Victoria, access broadband Internet to build community health.
The dreamer was Chas Salmen, then a medical student at the University of California-San Francisco who had recently completed graduate studies in medical anthropology as a Rhodes Scholar at Oxford.
At the time, Craig Newmark, of the craigslist Charitable Fund and Craig Newmark Philanthropic Fund, was looking for a way to connect to the internet at the cafe.
Chas, a resourceful neighbor, offered to help.
Little did they know that they would have much more in common than a shared wifi connection.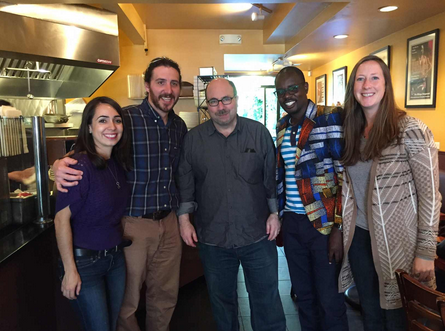 left to right: Flora, Chas, Craig, Richard and Kelsi.
Chas was working closely with a local organic farmer from Mfangano, Richard Magarenge, to think of ways to improve the health of a rural island community that had been ravaged by the HIV/AIDS epidemic. They realized that access to the Internet could provide a powerful incentive and a valid excuse for residents to participate in regular HIV counseling and testing. Chas and Richard's revolutionary idea was to combine a free community cyber-cafe with onsite voluntary HIV counseling and testing (VCT) in order to create a unique "post-test club". All members who joined the "club" through biannual HIV testing would receive free and unlimited access to the Internet.
To bring this idea to life, Organic Health Response (OHR) needed a capital investment to construct a solar-powered facility, recruit qualified staff, and develop East Africa's longest wifi link.
It was then that Craig, a philanthropist who was committed to using Internet technology as a tool for social good, became one of OHR's first major donors. Through the craigslist Charitable Fund and the Craig Newmark Philanthropic Fund, he has generously supported the organization ever since.
Since opening the doors of the Ekialo Kiona 'EK' Center in 2008, OHR has grown to support over 5,000 EK Club members, and supplies the only high-speed broadband Internet connection to the island's 30,000 residents.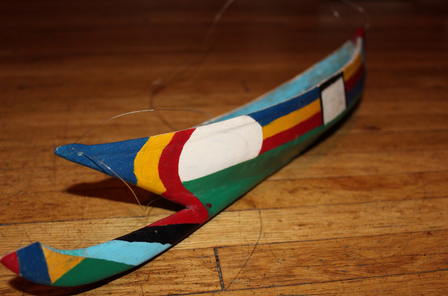 On March 31, everything finally came back full circle. Chas and Craig reconnected at the same coffee shop where they had first met all of those years ago. Only this time, they were joined by Kelsi Hines (Executive Director), Flora Mendoza (Development Director) and Richard, the Director of EK Center, who had traveled all the way from Kenya to the U.S. for the first time to meet with OHR's friends and partners in a three-week tour of Minnesota, California and Colorado. As a symbol of enduring friendship and gratitude, Richard presented Craig with a carved wooden boat made by a local craftsman.
Guest Contributor: Flora Mendoza, Organic Health Response's Development Director
Flora comes to Organic Health Response (OHR) as its first development director. She is currently based in the Bay Area, where she recently served as the manager of a winning ballot measure campaign that secured $580 million for affordable housing initiatives in the East Bay. Prior to that, she lived in New York City, where she was the interim executive director of the Polyphony Foundation and a public affairs consultant for Global Strategy Group. Flora began her career as a donor recruitment coordinator for DKMS, the world's largest bone marrow donor center. She is excited to return to the field of international public health with OHR. She holds an MPA in public and nonprofit management and policy from NYU Wagner, where she was the Lisa Goldberg of Philanthropy and Public Service, and a BA from Yale University.
Related Posts