Back to Newsroom
Poll Shows Social Media Usage is Growing, But So Are Concerns On Personal Privacy   
Folks, in 2014, the Craig Newmark Philanthropic Fund conducted a national survey in partnership with Rad Campaign and Lincoln Park Strategies to learn about people's social media usage and whether they trusted social networks to protect their data and privacy. A follow-up poll was recently conducted on this topic to see how things have changed.
While 80% of Americans now say they are using social media daily, 96% don't have a lot of trust social networks will protect their privacy and data.
The deal is, use of social media is up, but so is distrust. And many people don't think our current privacy laws are strong enough.
The data has been organized into an infographic, which you can check out here.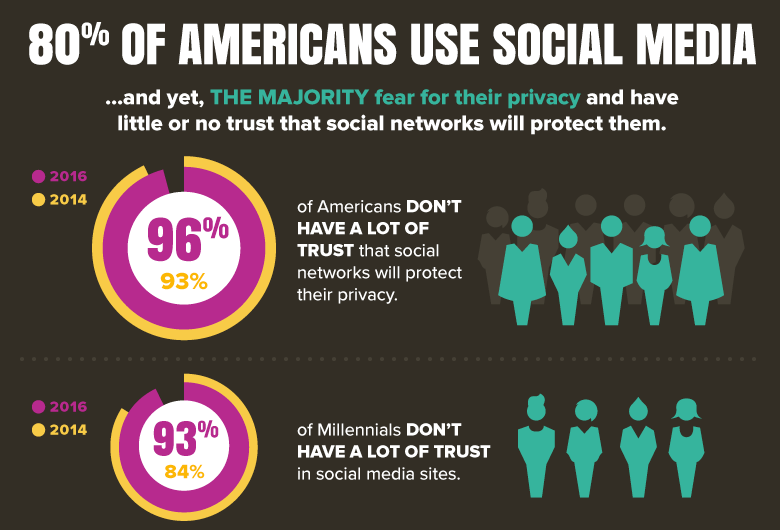 Key findings include:
Only 7% of Millennials have a lot of trust that social media sites will protect their privacy and personal information. Their trust of social media sites is down 9% from two years ago.
Adults 65+ have the least trust;
Of those who use social media the most – at least 4 social media sites – only 14% have a lot of trust in them;
Most of the best-known social media sites are seeing increased usage since 2014, according to responses to survey questions about which sites people use.
The online privacy threats that Americans are most concerned about include:
Downloading a virus or malware (80%);
Identity theft (75%);
Tracking cookies placed without consent (72%);
Too much personal information being made public (71%).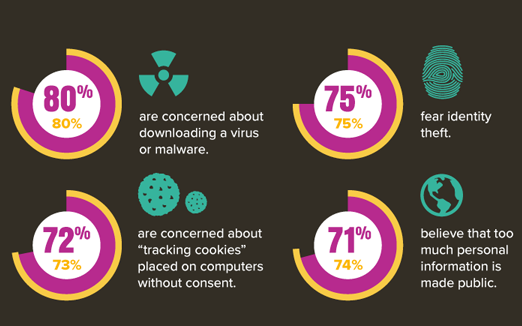 The poll's margin of error is plus/minus 3.07% at the 95% confidence level. Millennials are defined as people ages 18-35.
Related Posts