Back to Newsroom
How You Can Support America's Heroes And Help Them Win $50K
Folks, the American Heroes Charity Challenge has officially launched and can either give money to your favorite nonprofit helping America's heroes, or raise up to $50K for your nonprofit. You can still sign up.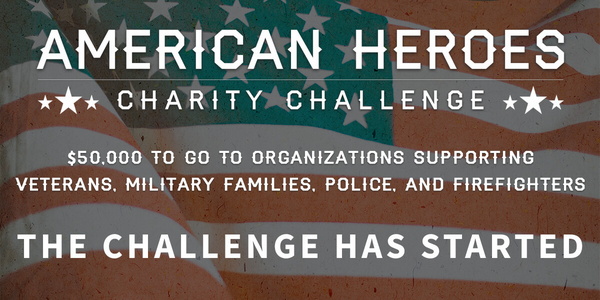 The Challenge is a friendly fundraising competition where organizations benefiting America's heroes, such as veterans, military families, police, and firefighters, compete to raise the most money with the top teams winning grand prize cash donations from the Craig Newmark Philanthropic Fund.
Everything launched today and runs through Thursday, July 6th at 1:59:59pm ET.
The team that raises the most during the Challenge wins a $15,000 donation
Second place gets $10,000
Third gets $5,000
And, there will be weekly Bonus Challenges for organizations to win another $20,000.
The best part of the Challenge is that even if you don't win any of the grand prize money, you get to keep the money you raise during the campaign.
Click Here by May 30th at 5pm ET to join the Challenge.
Other good news: Bonus Challenge #1 starts today, as well. This is a great way for you to raise money for your cause; here are all the details…
The 3 organizations that raise the most online between May 23rd at 12pm ET and May 30th at 1:59:59pm ET will each win $1,000.
Stay tuned, sign up, give if you're able, and let the #AmericanHeroesCharityChallenge begin!
Important things to note, via CrowdRise:
Related Posts