Back to Newsroom
How To Give Back to America's Heroes This July 4th
The American Heroes Charity Challenge is in full swing over on CrowdRise, and lots of folks are funding the nonprofits who support veterans, milfams, firefighters, and police officers. As of now, over $142,000 has been raised for these orgs. Even if they don't win the grand prize, each org keeps all the money they've raised.
Now, what can you do? You can check out all the orgs participating, read their mission, and support 'em financially or through word of mouth. These organizations could really use the help, and it doesn't take too much effort to give back to them. Especially when they give back to us all year.

There are also weekly bonus challenges, which will ultimately give away $20K, and I'd like to take a moment to congratulate the winners.
You can read about Bonus Challenge 1 here.
Bonus Challenge 2: Every organization with 5 active fundraisers is entered to win $2,000 and the organization with the most active fundraisers wins $1,000.
- Hero Dogs won the $2,000
- Warrior Canine Connection won the $1,000
Bonus Challenge 3: The two organizations that raise the most online this week played Rock Paper Scissors. The org that won Rock Paper Scissors got $2,000 and the organization that does not win gets $1,000.
It was a pretty exciting match, and Valor Service Dogs was the winner. The throws that sealed the match are as follows:
- Valor Service Dogs: Rock (they raised $12,785)
- Warrior Canine Connection: Scissors (they raised $7,959)
Bonus Challenge 4: Every organization to raise at least $500 online this week was entered to win $1,500.
- Operation Dignity
- Purple Heart Homes
Here's a preview of the leaderboard as of 5pm EST on June 26th...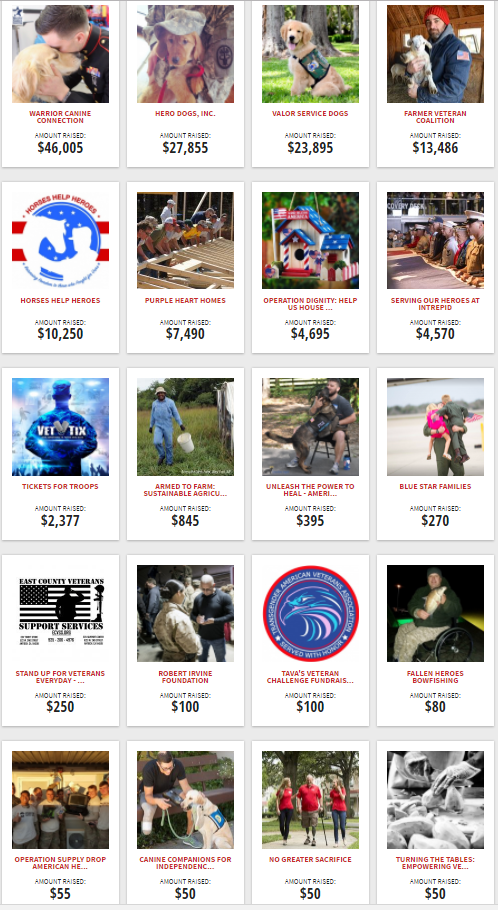 The thing is, we should be supporting the folks fighting for our safety, including active service members, vets, and military families on Independence Day and throughout the year. These heroes aren't only serving a few days a year, this is their life, and supporting them year-round is the least we can do.
Just a reminder: the Challenge runs through Thursday, July 6th at 1:59:59pm ET, and the team that raises the most during the Challenge wins a $15,000 donation, 2nd place gets $10,000, and 3rd place gets $5,000.
This effort is a great way to seriously support active service members, vets, and their families by giving back and sharing their mission. It's a great way also to show respect for all of the heroes who do so much for our country and who ask for so little in return.
Related Posts