Back to Newsroom
How I Went From Fashionista to Veteran Advocate
[This guest blog post was won in support of the Bob Woodruff Foundation.]
Above the din of the crowd surrounding the red carpet, the clicking sounds subtly announced the explosions that were glittering camera flashes bombarding me. The lights were everywhere, reminiscent of the stars in the American flag. They say one cannot see the stars at night in New York City like one can in the countryside where I grew up, but I beg to differ. Gotham just commands a variant type.
We are labeled muses, ingénues, pretty young things, It girls…placed front and center to vivify the right causes, wear the right designers, and mingle with all the right people. As a model, I found myself at the Super Bowl XLVIII's MVP Party, a press-heavy soiree in support of US war veterans.
While taking my leave from the red carpet, a hard metal object was suddenly pressed into my hand. It was a large coin bearing the photograph of a striking military officer, inscribed "In Memory of Captain Daniel W. Eggers."
A lovely brunette woman stood in front of me, speaking nervously, "You have such a beautiful spirit. I want you to have this. Daniel was my husband." Choking back tears, I embraced her. Her pain was tangible, and shook me from a real-life perspective. This woman, this military spouse, inspired me to look further into the experiences of veterans and their families. The statistics about our military personnel are astounding.
Some sobering facts from Honoring Our Troops and DoSomething.org:
- Every 65 minutes, a veteran commits suicide.
- More US troops have died from suicide than have been killed in Afghanistan since 2001.
- MBTI – or mild traumatic brain injury – is described as the "signature injury" of the Iraq/Afghan wars.
- Veterans are 12% of the adult homeless population.
In my journey becoming an advocate for veterans after this Super Bowl party, I reached out to veterans to talk about their experiences.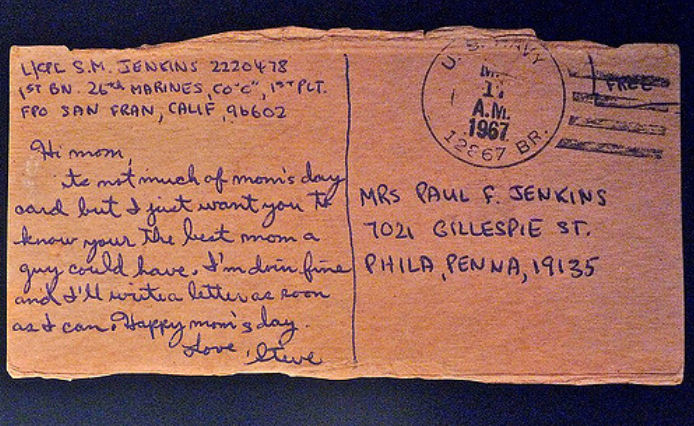 [Photo Credit: Missy Caulk at the Marine Corp National Museum]
[/caption]I had the privilege of sitting down with former Marine Jason Cunas, an outstanding 26-year-old Iraq/Afghanistan Veteran deployed at age 18, for an eye-opening Q&A:
Jason said, "I signed up for the Marines when I was 17. A recruiter never solicited me. I had just turned 17 and I already knew what I wanted to do after I finished high school: I wanted to serve my country. My parents came here illegally before I was born, and through hard work and following the proper procedures, they became naturalized citizens.
This country afforded my parents the opportunity for a better life and I grew up loving the USA. What better way to say 'thank you' than serving and protecting this country?"
Q: What was it like for you and your family during service?
"It was hard on both sides. Time doesn't stop because you're away. One of the hardest things was not being able to physically be there for my family. I was glad to be serving my country, but when my family needed me, it was physically impossible for me to do anything."
Q: Did you receive the benefits you were promised, including emotional support such as counseling?
"One of the benefits is the G.I. Bill, which allows you to go to school, and another is healthcare services at a VA facility for 5 years after discharge. I received both benefits.
While you're in the service, especially when you come back from overseas, they do offer confidential counseling services for individuals who they think might need it. But it's up to you to go. They also do PTSD screenings. When you give us the choice, some of us might not take it, because of how we think it will make us look to everyone else. No one wants to be the one who sees the 'shrink,' so we tell ourselves that it's nothing, and we hold it inside or self-medicate, i.e. use alcohol.
When you're in the Service, the benefits are all there. Once out, they drastically disappear. They don't completely go away, but they are offered less and are hard to acquire. The transition period from military to civilian life should be focused on a little more. We have been away from civilian life - everything from housing to job allocation is a major struggle."
Support for military families is a cause that is often overlooked, and that is shameful to me as an American citizen. The fact that I had the freedom to create an existence that was more relative to Miuccia Prada than Malala Yousafzai meant stark ramifications in the present-day world. Freedom truly isn't free. Despite one's political and/or personal beliefs, these troops are hardworking Americans sacrificing all and doing their jobs. They deserve the support of our citizens and our government. War may not be the answer, however delivering on the support that is promised to our veterans is always the correct answer.
DEDICATED TO THE MEMORY OF CAPTAIN DANIEL EGGERS
Farah Zulaikha is currently one of the youngest UN Ambassadors ever, serving the National Council of Women of The United States (NCWUS) with a focus on youth outreach amongst her generational peers. She is the founder/sole writer of her eponymous blog www.FarahZulaikha.com where she chronicles her life as an award-winning humanitarian, top model, international fashion/beauty ambassador, media personality, writer, biomedical researcher, and a Carnegie Hall Special Guest concert violinist.
Related Posts