Back to Newsroom
Facebook Launches Tool to Fight Misinformation
People want to see accurate information on Facebook and across the web. As a response, Facebook just launched a new educational tool to fight misinformation.

False news and hoaxes are harmful to our community and make the world less informed. We all have a responsibility to curb the spread of false news. Facebook sees a bunch of really difficult problems, and is acting in good faith to seriously address them.
Facebook's been focusing on 3 key areas:
disrupting economic incentives because most false news is financially motivated;
building new products to curb the spread of false news; and
helping people make more informed decisions when they encounter false news.
As part of ongoing efforts for journalism integrity, Facebook's partnered with First Draft, a nonprofit dedicated to improving skills and standards in the reporting and sharing of information online, to roll out an educational tool to help people spot false news. This tool will be featured at the top of folk's News Feed for a few days to people on Facebook in 14 countries.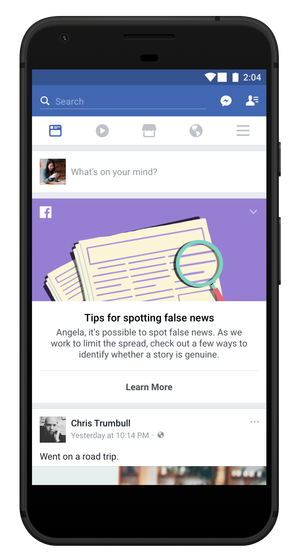 Here's how it works: When people click on this educational tool at the top of their News Feed, they'll see more information and resources in the Facebook Help Center, including tips on how to spot false news, such as checking the URL of the site, investigating the source, and looking for other reports on the topic.
This tool is another example of how companies like Facebook are taking the issue of news literacy seriously, and are looking at collaborative ways to address the challenge. Other examples include the News Integrity Initiative, which the Craig Newmark Philanthropic Fund has supported, and Facebook Journalism Project.
Improving news literacy is an important priority, and each of us need to do our part, as we're able, to help people understand how to make decisions about which sources to trust.
Related Posts