Back to Newsroom
Veterans Day Giving Match: Support Teachers in Military Communities
$700K Matching Grant to Support Teachers Helping Military Families
Acting on our duty to stand with military families, Craig Newmark Philanthropies is matching citizen donations to DonorsChoose.org classroom projects that serve military communities. For every $1 that you give, we'll also give $1, doubling each donation.
DonorsChoose.org, the leading platform for giving to public school classrooms, assists students and teachers across the U.S. by helping to provide the tools and experiences that kids need for a great education. On Veterans Day 2017, the organization made it easier to support military communities by unveiling a new category on its site: serving military families.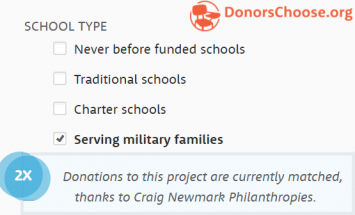 Now, you can search for and fund the classroom projects of:
Schools located on a military base in the U.S.;
Schools that report to the Department of Defense;
Schools in which 20% or more of the student population lives on/near a military base.
Here's how our grant works: if you give to any of these projects via DonorsChoose.org, your donation will be matched, 1 to 1, by Craig Newmark Philanthropies, up to $700,000. Educators in military communities across the U.S. are encouraged to submit new classroom projects, and we ask folks to share this news widely so that we can fund as many classrooms that support military kids as possible.
You can find a list of all eligible projects at DonorsChoose.org/CraigNewmarkPhilanthropies.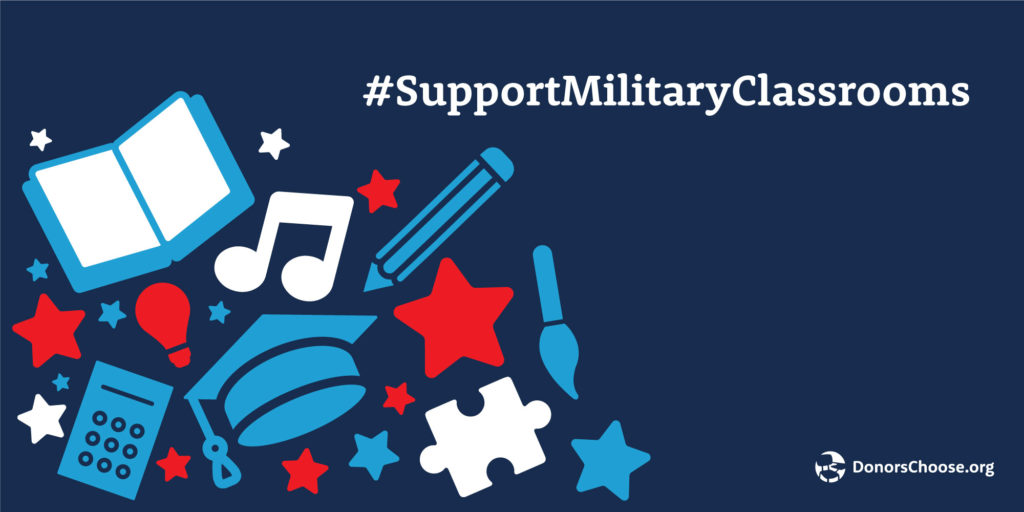 "These kids serve right alongside their loved ones in uniform," says Mrs. Burrow, a teacher on Nellis Air Force Base in Nevada. "They sacrifice so much and though it is hard, they proudly do it. I have seen the tears when their mom or dad deploys and I have seen the excitement as students have welcomed their loved one back from a deployment. Military life is tough but these kids are strong and deserve the best."
All teachers deserve our respect and support, and that's especially true of schools that serve military families. Craig Newmark Philanthropies is honored to support educators and military families across the country.
Tell us why you support schools serving military communities on social media using #SupportMilitaryClassrooms, and please encourage others to give back to education.
Related Posts