Back to Newsroom
25 London Tech Women to Follow on Twitter
Hey, there's a problem with gender equity in tech, and unless we're actively doing something about it, it won't get fixed.
Not everyone has the money or expertise to become investors and fund women-led startups, but sometimes it's the little things. You can do something as simple as talk about the gender gap to create awareness, you can support women tech events like the Women Startup Challenge, and you can follow the folks doing good work online on Twitter, LinkedIn, etc.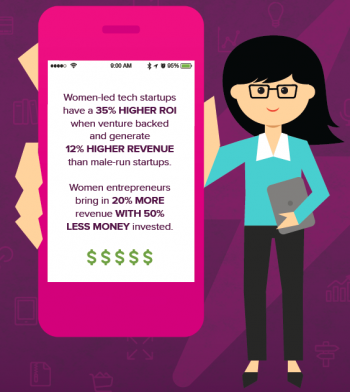 I'm starting a series leading up to the Women Startup Challenge Europe where my team and I will highlight tech women from, or around, London, which is where the final pitch competition is taking place. These are people you can reach out to for panels, for job opportunities, and whose products you can support.
25 Tech Women in London to Follow on Twitter (in alphabetical order)
Lizzie Barclay, Head of Marketing @Yahoo UK
A-Marie Imafidon, Co-Founder, Head Stemette and CEO of @Stemettes
Tanya Laird, Founder Digital Jam
Katia Moskvitch, Editor-in-Chief of Professional Engineering and Columnist at BBC Future
Sonali De Rycker, VC at Accel Partners
Reshma Sohoni, Co-Founder of SeedCamp
Olivia Solon, Journalist covering tech for @guardian
Emily Spaven, Editor at Tech City News
Victoria Stoyanova, Community architect, LDN host @CreativeMorning, and Adviser at @secondhome_io
Kristina Tauchmannova, Partnerships Manager at @TechCityUK
Sitar Teli, Managing partner at Connect Ventures
Jeni Tennison, CEO at Open Data Institute
Vicki Turk, Tech Editor at New Scientist
Kate Unsworth, Co-Founder and CEO of Vinaya
Elizabeth Varley, Founder of TechHub
Katharine Viner, Editor-in-Chief of Guardian News and Media
Angelique Vu, Developer at the Financial Times
Francesca Warner, Associate at Downing Ventures (Note: you can follow Francesca on LinkedIn)
Cathy White, Founder of CEW Communications, Organizer of GeekGirl Meetup UK, and Former Head of Communications at Tech City UK
Wendy Tan White General Partner Entrepreneur First @EFldn and Former CEO and Co-Founder @Moonfruit
Pip Wilson, Co-Founder and CEO of amicable apps
Colleen Wong, Founder of Techsixtyfour
Sarah Wood, Co-Founder and CEO of Unruly
Rosario Garcia de Zúñiga, Co-Founder and CTO at Headliner
Some of these women will be pitching their venture to a panel of investors on May 3rd at London's City Hall. Tickets for the Pitch Competition are open to the public, so please get your tickets and come support 'em if you're able.
Stay tuned for Part II of London Tech Women to Follow on Twitter.
(Thanks to @WomenWhoTech for researching the list)
Related Posts