Back to Newsroom
10 Women Tech Leaders Vie for $50K and Funding at Women Startup Challenge at LinkedIn
Folks, many of you know that I support women in tech as an initiative, but more specifically, Women Who Tech's Women Startup Challenge. The Craig Newmark Philanthropic Fund partnered with them to award $50K to the winner of the Challenge. Backstage Capital will grant a $10,000 investment, and the Audience Awards and IBM will award $320,000 in cloud services.
It's pretty simple…fair's fair, regardless of gender in tech, or it should be. Right now, only 7% of all investor money goes to women-led startups, and I'm working with Women Who Tech to help shake things up.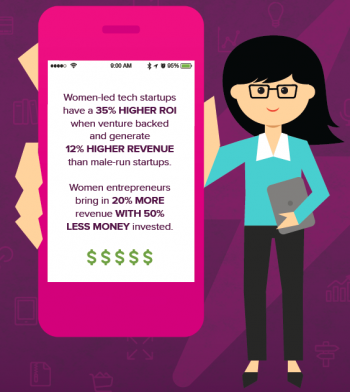 A panel of investors and tech experts judged over 400 startups who entered the national Women Startup Challenge and chose 10 startups to pitching their ventures on stage at LinkedIn in downtown, SF on June 14th.
The 10 finalists who will be pitching at LinkedIn in SF:
Babyation (St. Louis, MO) has revolutionized the breast pump by making it quiet, comfortable, discreet, and controllable by smartphone. It offers customizable programs and an app for "smart" data logging.
Blendoor (San Francisco, CA) is a blind recruiting app for job recruiters that hides the candidate's name and photo to circumvent unconscious bias and facilitate diversity.
bluDiagnostics (Madison, WI) is the first app to enable women to understand their body through revolutionary saliva-based measurement technology that gives women immediate, quantitative data about their hormone levels.
Cake (Somerville, Massachusetts) is the mint.com for end-of-life planning. They provide experts to help create a comprehensive end-of-life plan that's stored securely in the Cloud.
ClearVest Advisers (New York, NY) is a financial-tech alternative investment platform, providing access to established and emerging managers with lower investment minimums.
Design Flux Technologies (Akron, Ohio) is revolutionizing the energy storage industry by creating and selling the world's first battery operating system, "Cognicell" via clean energy applications.
Embrace Family Health (Woodside, CA) is a mobile-first digital maternal child health platform that empowers women with personalized information for maternity and baby care.
Entry Point VR (Santa Monica, CA) provides cross-platform distribution and analytics for virtual reality content.
Mohop (Chicago, IL) uses robotics to digitally fabricate mass-customizable footwear-on-demand.
SIRUM -- Supporting Initiatives to Redistribute Unused Medicine (Stanford, CA) is the "match.com" for unused, unexpired medicine, matching it with people in need.
On June 14th, you can join Women Who Tech for the third Women Startup Challenge pitch competition. The judges include investors and entrepreneurs Lisa Stone, co-founder of BlogHer, Kathryn Finney, founder of digitalundivided, Nisha Dua, principal at BBG Ventures, and Karan Mehandru, general partner at Trinity Ventures.
Hey, it's the Women Who Tech version of Shark Tank. You can RSVP here right now, so get your tickets soon. The last two Startup Challenges have sold out.
For the finalists, there will be a Speed Dating component on June 15th at 500 Startups where the finalists will meet one-on-one with investors and experts to really hone in their pitch and share their ideas. This is about building a community for women.
Join the conversation online with hashtag, #WomenStartupChallenge.
Related Posts